September 3, 2020 | Posted in Addiction
He's friends with everyone from Gwyneth to Brad and battled his own demons before he became a therapist. Carder Stout tells Katie Strick his extraordinary story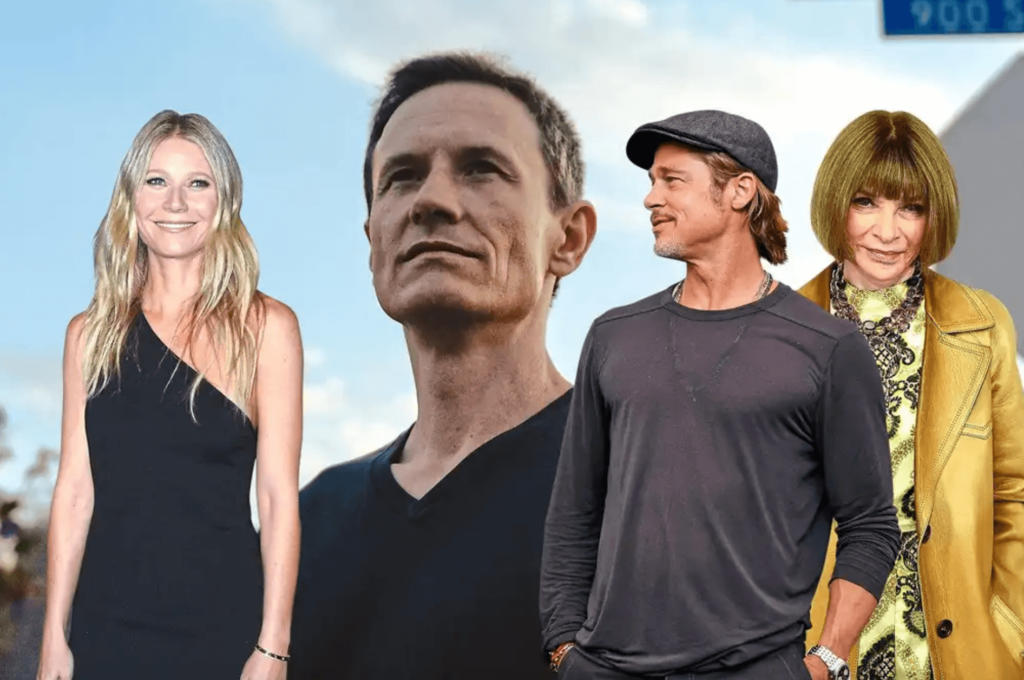 They say a writer's environment is key to their creative process, so it's no wonder Carder Stout's new memoir has received rave five-star reviews.
The Los Angeles film producer turned Hollywood therapist is showing me around the room where he's counselled Oscar and Grammy-winners, exchanged nostalgic lockdown emails with BFF Gwyneth Paltrow and — most recently — written a 300-page book about his escapades with "old friends" Leonardo DiCaprio, Brad Pitt and Anna Wintour.
The desk I can see over Zoom overlooks the Topanga Canyon in the Santa Monica mountains where Jimi Hendrix had a house and Neil Young wrote his album After the Gold Rush, and the room itself is the very space where record producer Steven Kipner wrote classics such as Olivia Newton-John's Physical and Christina Aguilera's Genie in a Bottle. Kipner owned the house before him, and Stout's now unassuming-looking office was his music studio, "so I feel that creative spirit around me," he smiles, pausing occasionally to swat a mosquito.
California's Covid situation is "pretty dire", says Stout, 51, but there are worse places to spend lockdown than his hillside idyll. Mornings begin with praying, meditation and a walk along the beach with his dogs, and days are spent watching his son and daughter playing among olive, lemon and eucalyptus trees outside his window. "Old friend" Paltrow is always checking in, and five-time Grand Slam doubles winner Rick Leach is giving him tennis lessons.
It's all quite the world away from the focus of his new memoir, Lost In Ghost Town, about his days of drug-dealing, cocaine addiction and narrowly escaping death in the dangerous underbelly of Los Angeles's Venice Beach in the early 2000s. But this is the point, says Stout. He wants his book to be a beacon of hope for anyone who's found themselves falling into a time of darkness, to show them there is a way out.
Stout had lived a privileged life before his days on the street. He had affluent parents, attended private school in Washington and later became a high-flying film producer with a plush penthouse in New York and a dinner party set that included the likes of Paltrow and Anna Wintour. "Leo [DiCaprio] said that one day he wanted to have muscles like me so he could get the girls… Liev [Schrieber] jumped into my blow-up pool with his wallet in his pocket… Brad [Pitt] put his arm around me and suggested I put a putting green on my terrace so we could play golf at night," Stout writes among the celebrity anecdotes in his new memoir.
But the glamour and hedonism quickly disappeared when he discovered crack cocaine. "Within a four-year period, I had lost it all," says Stout, recalling how he became homeless and fell out of touch with family and friends during those lost years of his early thirties in Ghost Town. The book details his escapades in the 'hood, from love affairs with prostitutes and escaping murder plots to befriending a fellow dealer named Flyn. Eventually, it was the love of Flyn and his grandmother, who took him into their home, which nurtured him back to health.
Stout credits Paltrow for later helping him realise his dream of becoming a writer. After getting sober and gaining Masters and doctorate degrees in psychology, he began writing for Paltrow's lifestyle site Goop five years ago. One blog post denotes his own "rock bottom", lying on the cold cement floor of an Albuquerque jail, but it was the response to a particular piece on addiction that's what he calls the "tipping point". "I said 'You know what, I can do this, I can sit down and create a schedule for myself and write this book'." Two years later he had a finished manuscript.
The memoir is dedicated to Stout's older brother Craig, whom he describes as his hero. Their mother was an alcoholic and father a "self-involved narcissistic man", so Craig, 15 months his senior, was his main guardian growing up. Losing Craig to cancer halfway through writing the book was "arguably the most difficult period of [Stout's] life", and he is grateful that he was able to read the first half of the memoir to his brother in hospital before he passed away.
In many ways, Stout's own grief has helped him to connect on a deeper level with clients. He never planned to bring his book out during lockdown, but the timing feels fitting. As a psychologist, he's noticed a "real uptake" in feelings of fear and uncertainty over the last few months. His mission is to help clients use this strange time to their advantage, whether it's taking a new class or developing deeper relationships with their children — ideas that are just as relevant whether the patient is one of his pro bono clients or an Oscar or Grammy-winner (he insists he has many among his client base).
Stout's children, Sebastian, four, and Maxine, six, have walked in on several A-list therapy sessions over lockdown, but no one has minded, he insists. Celebrities are "no different" to the rest of us: "everyone has experiences with their parents that are difficult, and difficult moments in their life and feelings of insecurity and doubt. We all share their common language of human suffering."
As a dream specialist, Stout is unsurprised many people are experiencing lockdown dreams about their exes because an ex represents a "lost love" during a collective time of grieving, and he's "definitely" seen a spike in people turning to drugs and alcohol during quarantine. He's now 15 years sober so "[doesn't] really think about [drugs] anymore" himself but sees how people end up going down that track.
How does he look back on his own addiction now? Stout says he no longer feels ashamed or guilty, but this "took some time". His wife of eight years, Jennie, knew roughly what had happened in Ghost Town but was "shocked" to read the details, and he would "love" for his children to read the book when they're old enough. "There are no secrets I want to keep from them," he says, recalling a moment on his recent US book tour when Sebastian stood beside him on the lectern, holding his hand and "beaming with pride" while he read a passage about a run-in with a murderous drug dealer.
Stout is currently writing a second book, a self-help guide called Everyone Is An Addict, to "demystify the idea that addiction is simply drugs and alcohol", and says he's in talks with British actress Emily Mortimer about her production company turning his memoir into a film. "There are a few actors involved already," he teases, tight-lipped on names. Hopefully old pals Leo and Brad will be keen for a re-run.